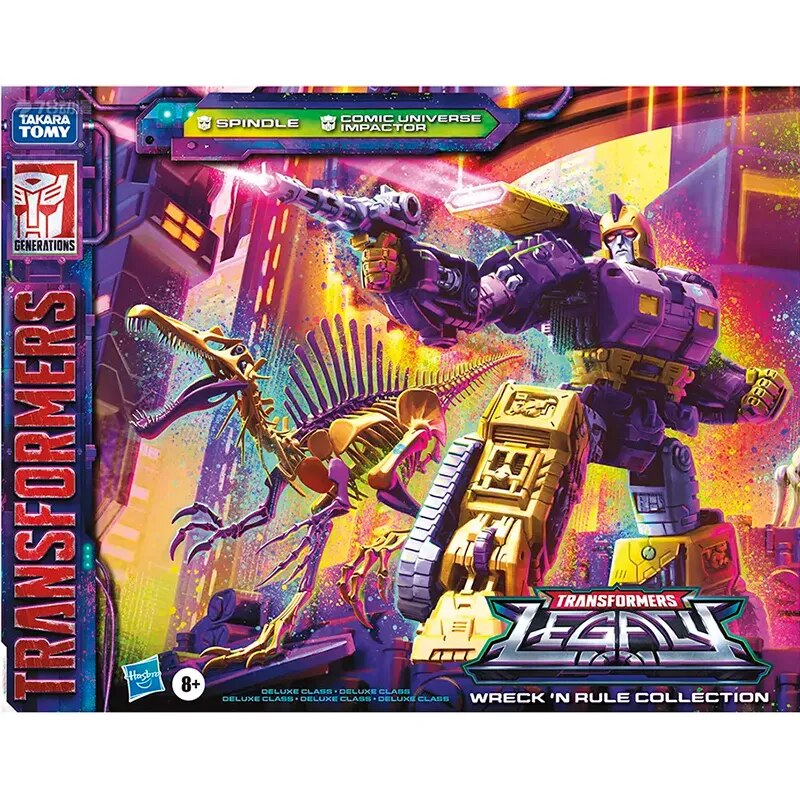 Hasbro Transformers LEGACY Evolution Collectible Robot Action Figures
Sale price

$82.23
Regular price
(/)
Choose from 5 iconic characters - Leadfoot, Springer, Impactor, Twintwist, and Bulkhead. These collectible robot action figures are perfect for Transformers fans and collectors.
---
Transformers LEGACY Evolution Collectible Action Figures

Step into the world of Transformers LEGACY Evolution with Hasbro's collectible action figures. Choose from an exciting lineup of 5 beloved characters, each ready to bring their unique style and power to your collection. 

Key Features:

Item Type: Model
Origin: Mainland China
Gender: Unisex
Soldier Accessories: Soldier Finished Product, Soldier Set
ACG Character: Spindle, Impactor, Mastroominus, Leadfoot, Springer, Bulkhead, Twintwist
Material: Plastic
Mfg Series Number: Model
Commodity Attribute: Finished Goods
Completion Degree: Finished Goods
Original Package: YES
Warning: Keep Away From Fire
Version Type: First Edition
Theme: Movie & TV
Puppets Type: Model
Certification: CE
ACG Name: Transformers
Remote Control: No
By Animation Source: Western Animation
Condition: In-Stock Items

Choose Your Transformer:

With 5 legendary characters to choose from, you can assemble your Transformers dream team. Whether you favor the rugged Bulkhead or the agile Springer, these action figures offer a piece of the Transformers legacy.

High-Quality Materials:

Crafted from durable plastic, these action figures are built to withstand the rigors of play and display. Each figure boasts exceptional detail, bringing out the essence of its character.

Fully Equipped Soldiers:

These figures come as finished goods, featuring all the accessories and finishing touches that make them true Transformers warriors.

Original Packaging:

Rest assured that these figures will arrive in their original packaging, ensuring their authenticity and collectible value.

For Collectors and Fans Alike:

These action figures cater to both dedicated collectors and passionate fans. Display them prominently in your collection or recreate iconic scenes from the movies and TV series.

Immerse Yourself in the Transformers Universe:

Transformers LEGACY Evolution is a world of heroes, villains, and epic battles. These action figures allow you to immerse yourself in that universe and create your own memorable stories.

Attention to Detail:

These figures are a testament to the meticulous attention given to capturing each character's unique appearance and personality. Every detail counts, making them true to the Transformers legacy.

First Edition Versions:

These action figures represent the First Edition versions, making them highly sought-after collectibles for Transformers enthusiasts.

No Assembly Required:

Enjoy hassle-free play and display with these finished goods. They are designed for collectors who want to showcase their favorite Transformers characters with ease.

Join the Legacy:

Become a part of the Transformers legacy with these collectible action figures. Choose your heroes, engage in epic battles, and relive the excitement of the Transformers universe.

Whether you're a seasoned collector or new to the world of Transformers, these action figures offer a gateway to endless adventures. Pick your favorite character and let the Transformers LEGACY Evolution continue with these highly detailed and poseable action figures.
Hasbro Transformers LEGACY Evolution Collectible Robot Action Figures
Sale price

$82.23
Regular price
Choose options