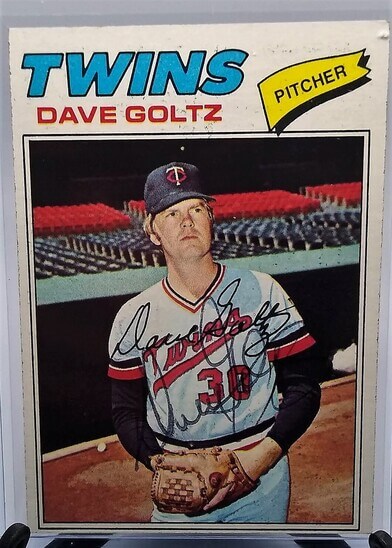 1977 Topps Dave Goltz Hand Signed Autographed Baseball Card
Sale price

$18.00
Regular price
(/)
Discover the treasure of a hand-signed 1977 Topps Dave Goltz baseball card. Add this autographed collectible to your collection and commemorate the legacy of a baseball icon.
---
Celebrate Baseball Heritage: Hand-Signed 1977 Topps Dave Goltz Autographed Baseball Card

Step into the world of baseball nostalgia with the hand-signed 1977 Topps Dave Goltz baseball card. This autographed collectible is a testament to a player who left an indelible mark on the sport, a must-have addition for any avid baseball enthusiast.

A Tribute to Dave Goltz's Career

This card encapsulates the legacy of Dave Goltz, a player whose contributions to the game resonate to this day. With his distinctive autograph gracing this card, you're holding a piece of his journey through the world of baseball.

An Authentic Connection

The authenticity of Dave Goltz's autograph on the 1977 Topps card adds a unique dimension to your collection. It's not just a card; it's a personal connection to the player, an embodiment of his dedication and impact on the field.

Preserved with Care

This autographed card has been meticulously preserved to ensure both the autograph's quality and the card's overall condition. It's a slice of history, a window into the past that captures the essence of Dave Goltz's contributions to baseball.

A Gem for Collectors

For collectors with an appreciation for both the sport and its heritage, the hand-signed 1977 Topps Dave Goltz baseball card is a gem. It's an investment in history, a symbol of dedication, and a testament to the enduring allure of baseball.

Connecting Generations

Bridge the gap between generations of baseball enthusiasts by adding this autographed card to your collection. Dave Goltz's legacy lives on, inspiring fans young and old with his skill, sportsmanship, and love for the game.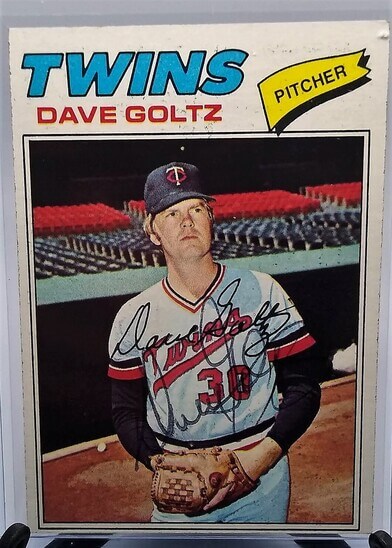 1977 Topps Dave Goltz Hand Signed Autographed Baseball Card
Sale price

$18.00
Regular price
Choose options