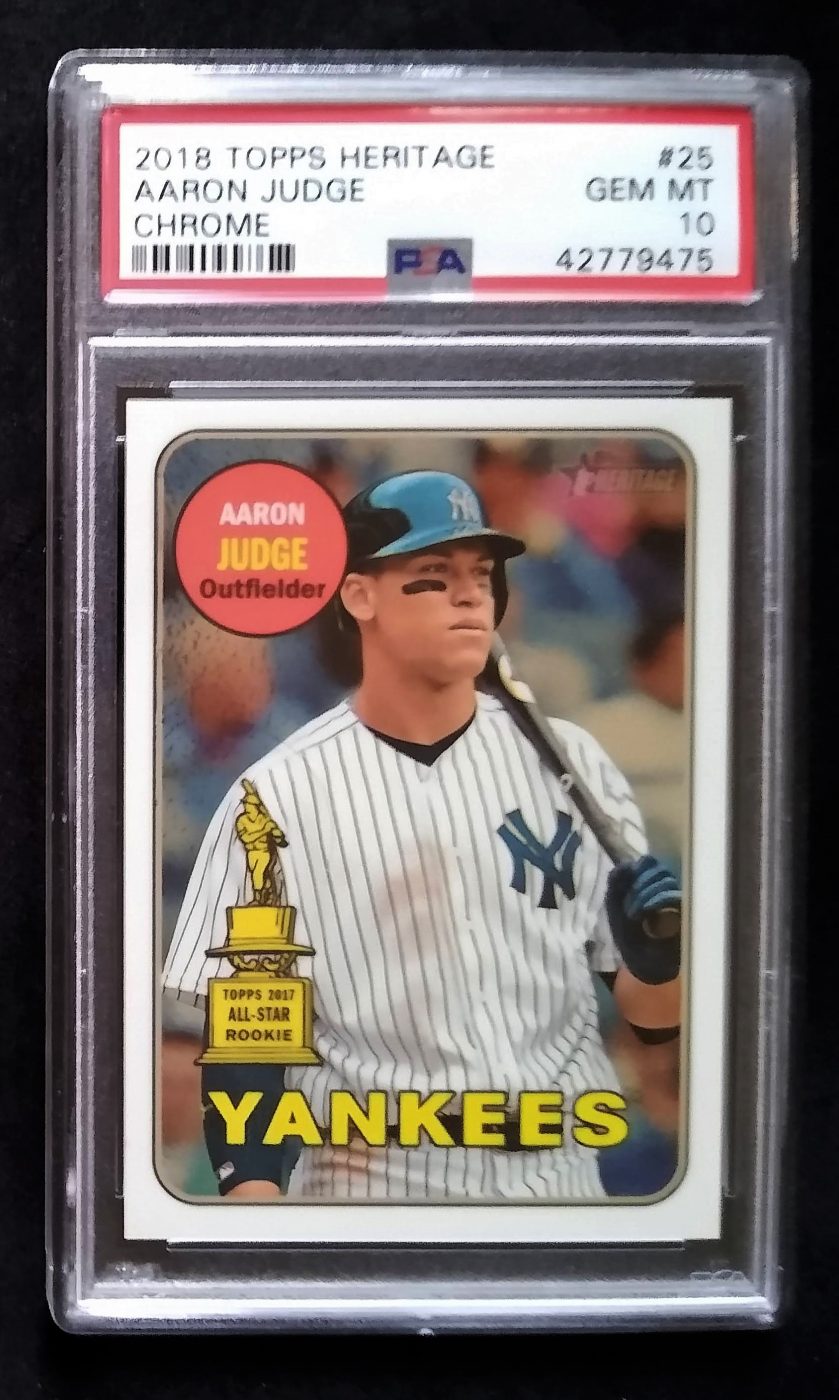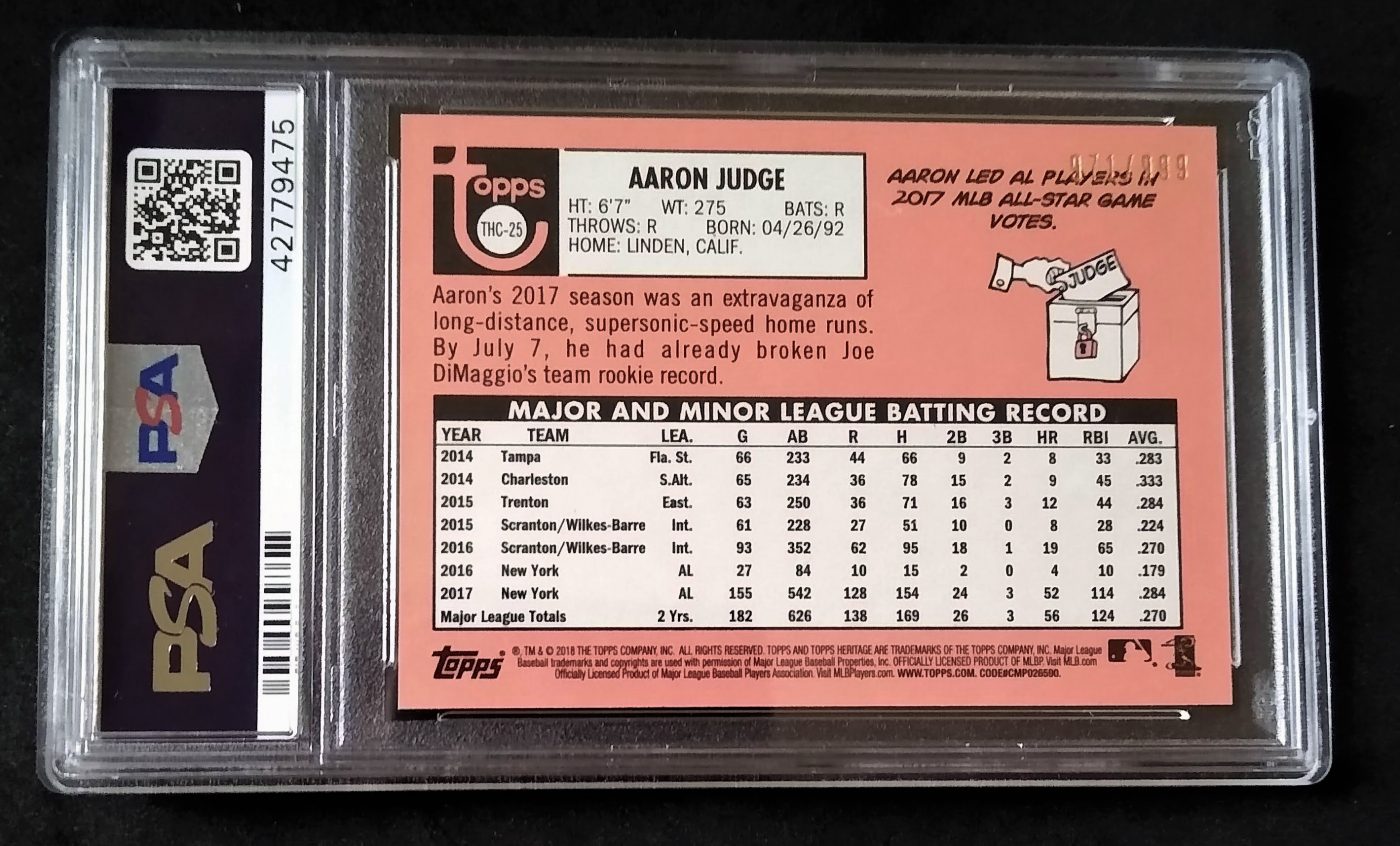 2018 Topps Heritage Aaron Judge Chrome PSA Graded 10 Baseball Card #'d/999
Sale price

$550.00
Regular price
(/)
Uncover a masterpiece with the 2018 Topps Heritage Chrome Aaron Judge card, graded PSA 10 Gem Mint. Limited to just 999, this gem celebrates the Yankees' slugger in all his glory.
---
2018 Topps Heritage Aaron Judge: The Chrome Excellence

A Legacy of Power:
Aaron Judge, the face of the New York Yankees and one of baseball's most formidable sluggers, has become synonymous with home run highlights. This impeccable 2018 Topps Heritage Chrome card embodies Judge's dominance in Major League Baseball.

Card Specifications:

Series: Topps Heritage 2018 Chrome
Player: Aaron Judge
Grading: PSA 10 Gem Mint
Edition: Limited Chrome, numbered to 999
Team: New York Yankees

Highlighted Features:

Grading Perfection: This card isn't just another collectible. It has achieved a PSA 10 Gem Mint grading, a testament to its impeccable condition and quality.
Striking Chrome Finish: The card boasts a reflective chrome finish, enhancing its visual appeal and making it stand out in any collection.
Limited Edition: Being one of only 999 cards, this limited edition ensures that you own a rare piece in the vast realm of sports memorabilia.
Detailed Backstory: On the reverse, you'll find in-depth stats and stories from Judge's career, adding to its informational value.

Conclusion:
The 2018 Topps Heritage Chrome Aaron Judge card is not just a keepsake but a celebration of a baseball phenom's journey. Every detail, from its design to its limited number, speaks of its exclusivity. As a Yankee fan, baseball enthusiast, or dedicated card collector, this is a piece that would undeniably elevate your collection. Don't miss the opportunity to own a segment of Yankee greatness.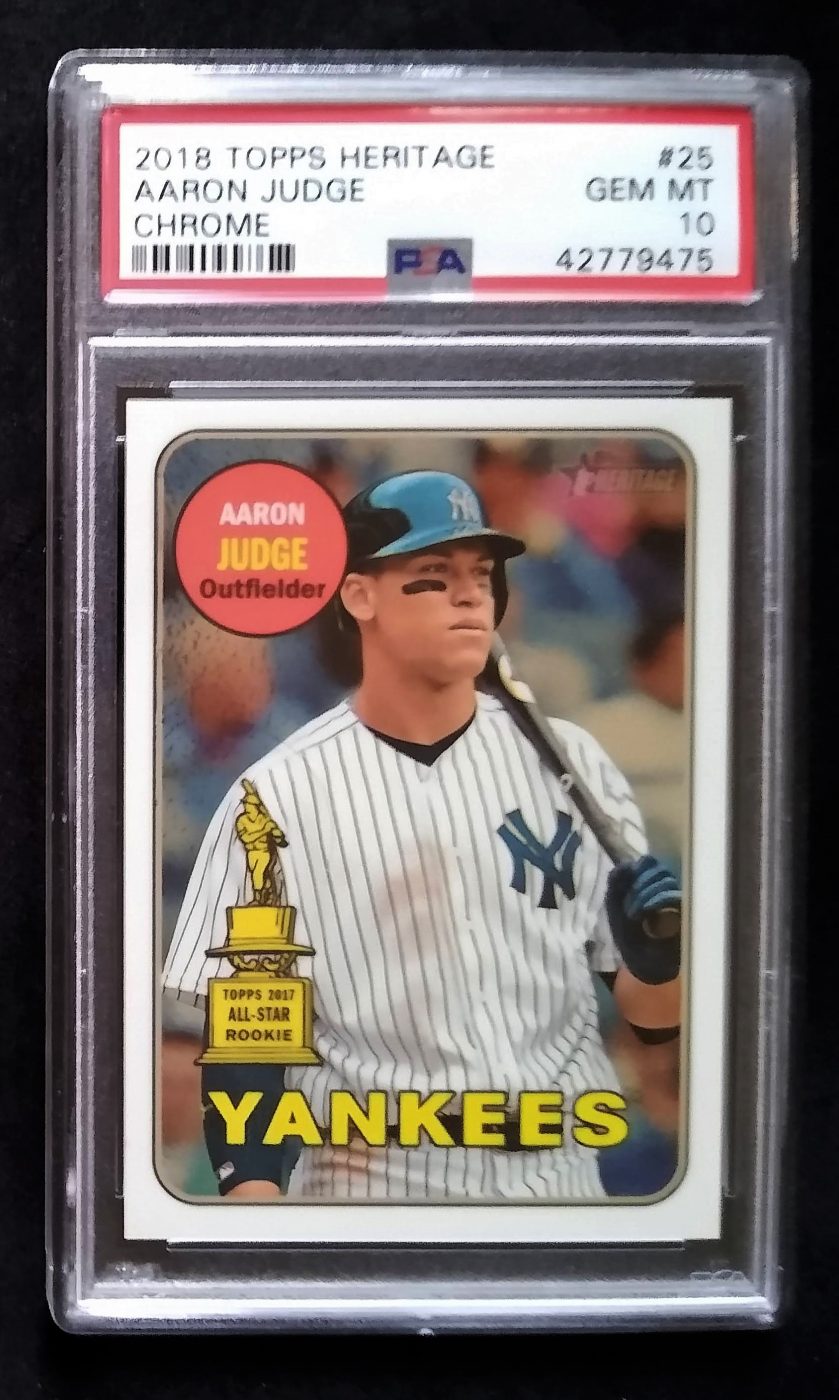 2018 Topps Heritage Aaron Judge Chrome PSA Graded 10 Baseball Card #'d/999
Sale price

$550.00
Regular price
Choose options